A recent commission to source original artwork for a client's Islington penthouse apartment.
Our client is a keen collector of Modern British artwork, and we have already worked together to find some really interesting pieces for another property, with a particular emphasis of female artists such as Elisabeth Blackadder and Sandra Blow, but this time they wanted to look for something more contemporary for this modern apartment.
The beautiful series of woodcuts '

Nachtfahrt' (or literally translated, Night Drive) by German artist

Christiane Baumgartner immediately stood out for their beauty, originality and haunting narrative quality.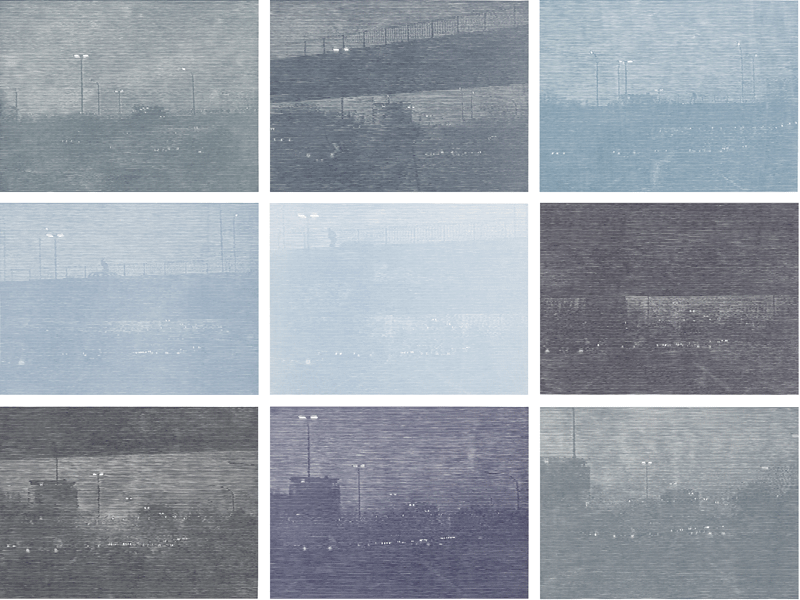 About the artist: Her chosen format is monumental monochrome woodcuts taken from her own video stills. She combines the earliest and the latest processes of visual reproduction: woodcut and video.
Speed and the passage of time are recurring themes throughout her work.The notion of time is also embodied in her artistic process, which involves the lengthy and painstaking medium of handmade woodcut, with all its inaccuracies and mistakes. Transforming the fleeting video stills into these confusingly complicated and delicately flickering woodcuts can take up to a year, and the results embody both this sense of the chance moment, and the solidity of crafted exactitude.
Whist the series works beautifully hung as a block (see above images from the artists website), we chose to hang them in a linear fashion around the room, which works to capture the video still nature, with the story being told sequentially, and the works travel towards and under a bridge for example revealing itself as you move around the space. The environment of the apartment itself, its linear architecture, and the light and views over the cityscape serve to highlight, converse with and contrast with the work.
More about Christiane Baumgartner from Alan Cristea gallery: "

Christiane Baumgartner was born in 1967 in Leipzig, Germany,
and studied there at the Hochschule fur Grafik und Buchkunst before completing her Masters in Printmaking at the Royal College of Art in London in 1999. She now lives and works in Leipzig.

Baumgartner is best known for the monumental woodcuts based on her own films and video stills. She first came to public attention in the UK in EAST international in 2004 and a year later with a major solo exhibition at the Ikon Gallery in Birmingham. She was included in the groundbreaking exhibition at MoMA, NY, called Eye on Europe and her work is held in over 30 public collections around the world including the Albertina, Vienna; the Museum of Modern Art, New York; the Bibliothèque Nationale de France, Paris and the Staatliche Museen zu Berlin."
Click here for a video of the artist talking about her work courtesy of the Alan Cristea Gallery, showing footage of her stunning exhibition Reel Time there. Also this review "Artist of the Week" from The Guardian newspaper.
An in depth review of her work by Paul Coldwell from "Art in Print" with great images.